GIANT STEPS…
---
Auto-Follower platooning takes the stage in driverless trucking, as Richard Bishop and Michael Britt report
---
The curtain has risen on the next generation of truck platooning. You guessed it: the operative word is "driverless."
Today, we have commercial truck platooning systems now coming to market providing a robust, safe system for close following of two or three trucks to save fuel, relying on radar plus vehicle-to-vehicle communications to synchronize throttle and brakes of the rear truck(s) with the lead truck. Both drivers are steering and monitoring/responding to the road environment. This is a "Level 1" system as defined by the Society of Automotive Engineers. The natural evolution is to enhance the tech on follower vehicles such that they can follow the leader on their own. This new platooning model would leverage the skills and decision-making of the highly trained, observant and intelligent truck driver in the lead truck to enable a form of "supported driverless" in the early days of automated truck deployment. Given that in "auto-follow" a human remains in the larger loop, regulators' concerns about full driverless are eased. One might say such an "auto-follow" system constitutes a hybrid "Level 1 / Level 4" system in SAE levels lingo, although the level definitions don't really address such multi-vehicle systems.
In 1999, Richard first rode in a truck platoon prototype being demonstrated on a German highway as part of the EU CHAUFFEUR program. Here, as with similar research projects around the world in the '90s and '00s, all trucks were fully automated.Moving from prototypes to commercial systems has required a rigorous, stepwise process.A key development came in 2012 when startup Peloton Technology began development of a Level 1 platooning system for real customers on real roads in everyday trucking operations (their flagship product, PlatoonPro™ is now coming to market).In subsequent years, Volvo Trucks and other truck-makers have launched similar platooning programs and have been active in testing with customers
"As elegant a concept as auto-follow is in combining human intelligence with fuel/labor savings, it can't spur new industry efficiency gains unless the fundamental platooning capability of V2V-enabled close following is perfected
As elegant a concept as auto-follow is in combining human intelligence with fuel/labor savings, it can't spur new industry efficiency gains unless the fundamental platooning capability of V2V-enabled close following – at a high level of safety – is perfected. Up until this spring there has been a dearth of public information about system performance of Level 1 platooning, but results of a European test involving MAN Trucks and freight forwarder DB Schenker were presented in Berlin in May. These Level 1 platoon trucks logged 34,000km running freight on the A9 motorway from Munich to/from Nuremberg. Technology uptime was 98 percent and the vehicles experienced no critical safety events. Interestingly, drivers who were initially skeptical of the system very quickly became advocates.
Physiological studies showed no degradation of driving ability (monotony, stress) compared to regular truck driving -- a highly important finding as this question of driver attention and fatigue is raised often. Fuel economy improvement of only 4 percent was a disappointment, but not surprising: platooning fuel economy benefits are generally better at higher speeds, and the German government permit required the platoon trucks to travel at only 50 mph (80 kph). More generally, European road rules restrict trucks to the right lane only and require them to travel slower than passenger cars; this is a vastly different highway protocol than driving in other markets like Australia, Canada, and the US. The more typical 55 mph (88 kmh) speed limit in Europe leads to an average of 8.7 miles per gallon while for the large Class 8 tractor-trailers in the US, traveling on roads with speed limits up to 75 mph, average fuel economy is far lower at 6.5 miles per gallon. Since the MAN platoon systems were advanced prototypes but not commercial systems, we expect that technical tweaks in developing a final product can further improve platooning fuel economy benefits in Europe[1] [2] .
Alexander Doll, Member of the Management Board for Finance, Freight Transport and Logistics at Deutsche Bahn AG spoke positively about the ease with which DB Schenker could integrate platooning, noting that operationally "40 percent of our network is a 'fit' for platooning."
"Connected trucks can be safer than other trucks on the road, even those equipped with the latest safety technology because the lead truck can sense a developing crash situation with forward radar and relay this information to the rear truck nearly instantaneously"
Not long after, at the 2019 Automated Vehicles Symposium (AVS19), Peloton co-founder Steve Boyd revealed results of customer trials running since last summer in Texas. Working with six major fleets, they moved over 1500 tons of freight with their Level 1 PlatoonPro product. Platooned miles per day exceeded 700 miles per truck, reaching fuel savings of 7 percent across the two trucks (4 percent on the front truck nd 10 percent on the back truck, consistent with results from independent test track evaluations performed by multiple parties over recent years). There were no hard braking or critical safety events. Additional long-term fleet trials of PlatoonPro are underway or starting later this year. Peloton plans to make the system available to fleets via third party up-fitters who will add the platooning components to a pre-wired truck straight from the factory. Initial commercial deployments are only occurring on new trucks, but recently purchased trucks from partner OEMs that have all the necessary safety specifications may be eligible for a retrofit.
Interestingly, Boyd made the case that connected trucks can be safer than other trucks on the road, even those equipped with the latest safety tech. Why? Because the lead truck can sense a developing crash situation with forward radar and relay this information to the rear truck nearly instantaneously (~0.1 seconds), it's possible for the rear truck to automatically initiate braking before the front truck does (if appropriate to the kinematics). For example, if a passenger vehicle suddenly cuts off the front truck in order to make a freeway exit, the moment the front truck's radar senses the hazard, the rear truck is already proactively braking to separate and grow the gap between the trucks, while the front truck is braking appropriately to avoid a conflict with the passenger car.
What about regulations allowing platooning? For Level 1 deployment in the US, this is quite straightforward compared to higher automation: what matters is adjusting laws at the state level meant to prevent tailgating trucks. Exceptional progress has been made in recent years, such that commercial deployment of platooning is now allowed in 27 US states. Importantly, according to Peloton, over 75 percent of annual US truck freight ton mileage occurs in these approved states. Regardless of the system provider, a significant chunk of geography is platooning-ready.
As noted above, Australia and North America are ideal for near-term deployment of platooning in long haul trucking. As noted by Alexander Doll, platooning can be useful on specific routes in Europe as well. In short, the prospect of seeing reliable 7 percent combined fuel savings safely implemented across two trucks for long haul trucking has early-adopter fleets keen to have it as soon as possible.
So now "driverless" comes in two flavors for the trucking palate. We've seen the advent of "stand-alone" Level 4 driverless trucks designed to run on their own (pursued by a phalanx of startups such as TuSimple, Embark Trucks, Kodiak RoboticsWaymoStarsky Robotics as well as Daimler and Volvo Trucks). How will all this roll out?
The "sequential" school of thought, envisioned by McKinsey and Peloton, sees auto-follow platooning coming to market first given the maturity of Level 1 platooning and the technology's ability to rely on a human in the lead truck to offer a more versatile service enabled by the human driver taking care of unusual situations. Stand-alone Level 4 trucking would come later due to the "long haul" of delivering a fully validated and safe system with no on-board human involvement, coupled with the significant operational constraints in creating high-definition maps and handling weather-based limitations.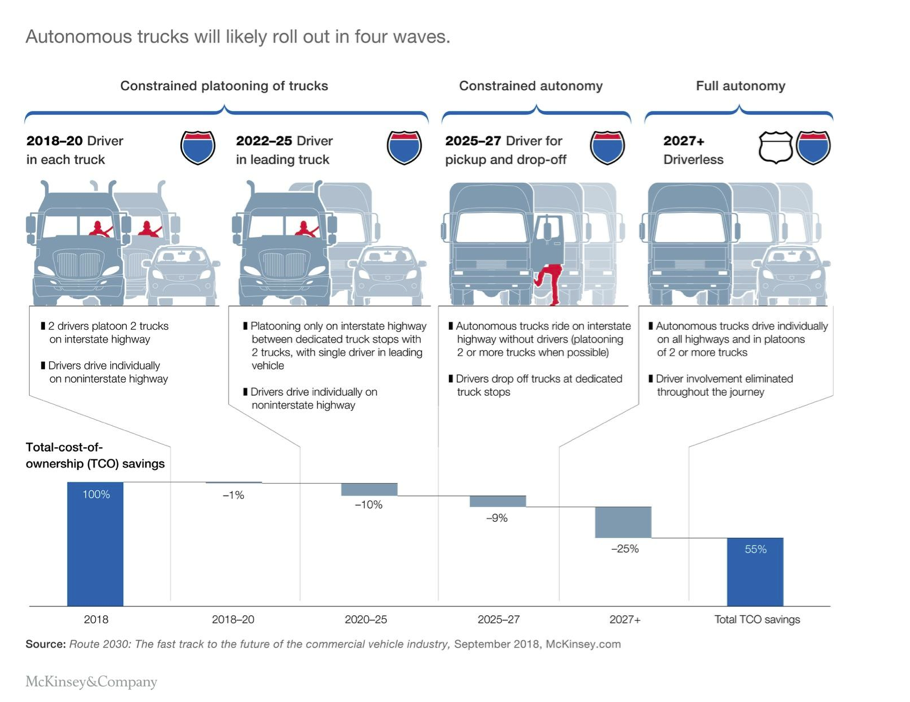 McKinsey analysts conclude that: "the trajectory toward full autonomy is long – more than 10 years before trucks are expected to drive on the road fully autonomously – but first use cases are expected to hit the market within the next few years." McKinsey sees auto-follow platooning coming in the first half of the 2020s with Level 4 stand-alone trucking appearing in the second half as shown in the figure (note the increasing reductions in total cost of ownership as this progression occurs). Similarly, Locomation says on their website that "at the current pace, it will easily take a decade before any industry sees fully driverless vehicles."
Another school of thought sees two parallel waves of driverless trucking deployment, even though they will initially differ in scale. The view here is that, given the level of investment and fast pace of development in stand-alone Level 4 trucking, we could see initial deployments in the early 2020s. This is around the same time that we estimate that auto-follow will come to market (but no specifics on timing yet from the tech developers).
However, deployment timing alone is insufficient. Scale is the dominant factor. We see auto-follow platooning growing in scale much faster than stand-alone driverless trucks, at least initially. One reason is that platooning is a perfect fit for "hub to hub" operations, in which drivers run regular "out and back" routes, in many cases leaving for their routine routes about the same time; therefore, dispatching two trucks together with the intent to platoon causes no disruption to a fleet's highly tuned operations. Given that major fleets like FedEx and UPS operate this way today, the number of trucks involved could easily be in the tens of thousands in the US. Therefore, just a couple of large fleets adopting auto-follow platooning provides reasonable scale quickly, while the operating area for stand-alone driverless could be constrained by the factors noted above.
"The USDOT's Federal Automated Vehicles Policy 3.0 states that regulators "will no longer assume that the [commercial motor vehicle] driver is always a human or that a human is necessarily present onboard a commercial vehicle during its operation."
Simply put, there is no shortage of freight in either domain; both approaches will enjoy strong demand.
Which approach has greater predictability regarding deployment timing? In our view, auto-follow platooning wins the "relative predictability" contest, given the maturity of Level 1 platooning and reliance on human intelligence in the lead truck. Level 4 stand-alone could encounter a long slog to reach acceptable levels of performance and risk (in some ways similar to the challenges Waymo, Cruise, and Uber have encountered seeking to launch driverless robo-taxi services).
Nevertheless, forms of both could come to the market within a few years, as long as there is a clear regulatory environment. In the US things are trending in the right direction given USDOT's guidance in their Federal Automated Vehicles Policy (FAVP) 3.0 that regulators "will no longer assume that the [commercial motor vehicle] driver is always a human or that a human is necessarily present onboard a commercial vehicle during its operation." This in effect clears the way for Level 4 trucking of any flavor to operate on US highways (although states still have a say in this). A process is now underway to establish this guidance in formal regulations. FAVP 3.0 also encourages states to clear remaining regulatory barriers to platooning in general.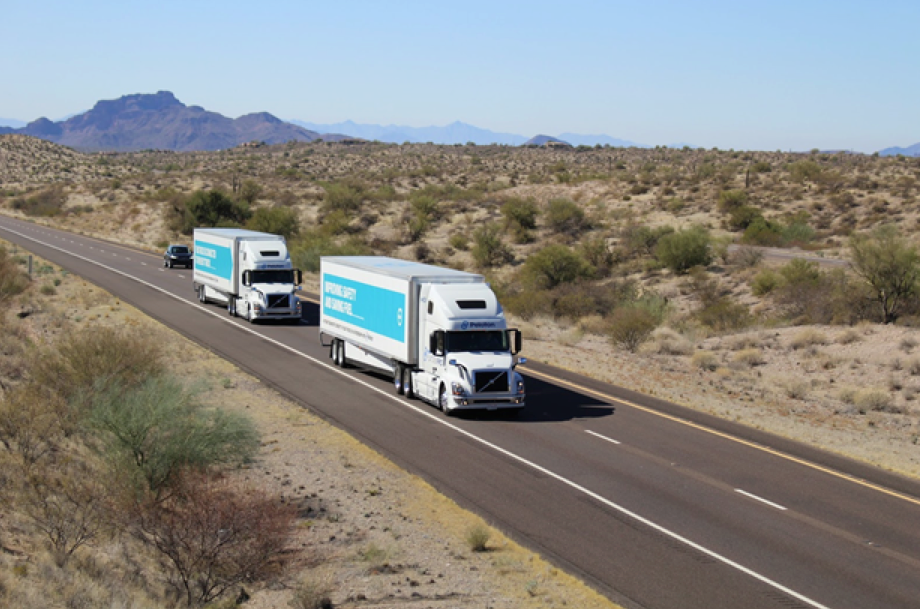 These creative technological solutions will be vital in addressing the global shortage of truck drivers as freight volumes increase. Peloton's Switkes sees auto-follow making drivers "twice as productive," adding that lead truck driving would require increased skills and therefore increased compensation. This echoed a point made by Dr. Steve Viscelli in a 2018 paper from the UC Berkeley Center for Labor Research and Education and Working Partnerships USA: "Human-led drone platooning is also the only scenario where driver upskilling would be almost certain for driving activities... Drivers in this scenario would likely be better trained, more highly skilled, and better rewarded… All these improvements could combine to make for fewer, but much better, long-haul trucking jobs."
Initially, auto-follow platoons will be able to operate much more broadly than Level 4 stand-alone vehicles, but the latter will have a notable labor savings advantage since they are fully driverless. In the highly diversified trucking market, no one technology offers a "silver bullet" that is a must-have for all trucking operations. However, the advent of automated driving systems which can deliver substantial reductions in both fuel and labor costs is an oncoming wave of massive change for this industry globally.
Neither auto-follow platooning nor Level 4 stand-alone trucks are on the market yet. Extensive safety validation remains to be done, as well as the solid engineering to deliver reliable vehicles that integrate successfully into today's fleet operations.
In the coming years, it will be fascinating to watch regulatory and deployment dynamics in the US, Singapore, Australia, Europe, and eventually everywhere.
---
Richard Bishop, associate editor of Thinking Highways, has over 25 years of experience in the domain of intelligent, connected, and automated vehicles and how these interact with our transportation system and society, including automated cars, trucks, and robotaxis. He provides strategic consulting to automotive manufacturers, suppliers, and tech firms, as well as advising federal and state government agencies in the US and abroad. Richard serves as 2nd Vice Chair of the American Trucking Association's Automated Driving Study Group, and founded and chairs the International Task Force on Vehicle Highway Automation. Prior to establishing Bishop Consulting in 1997, Mr. Bishop was Program Manager for Vehicle-Highway Automation at the USDOT Federal Highway Administration. Richard can be reached at richard@richardbishopconsulting.com.
In a career of over 30 years at United Parcel Service, Mike Britt fulfilled a variety of engineering roles including global responsibility for Advanced Propulsion Technologies. This role led to the opportunity to evaluate many different technologies worldwide. MG Britt Inc provides engineering and consulting services for the transportation industry. He can be reached at mike@mgbrittinc.com.