Smart, smarter, smartest...
---
Thinking Highways takes a detailed look at some of the most innovative and exciting ITS and smart mobility projects in the Netherlands, with particular emphasis on the Brabant region, host of June's 2019 ITS European Congress
Working on the smoothest, safest, smartest and most robust mobility network possible in the Netherlands. Together with the Ministry of Infrastructure and Water Management, Rijkswaterstaat, the provinces Noord-Brabant and Limburg, various municipalities, companies and knowledge institutions. Working together on smart solutions. For today's trip and tomorrow's world, that is what SmartwayZ.nl is all about
.
The economy is doing well in the Netherlands and especially in the Eindhoven region. Consumers spend more and this means busy shops and full terraces, but also more cars and more trucks on the road. Good accessibility and traffic flow are essential for the smartest region, for the business climate, the quality of life and international trade.
Under the banner of SmartwayZ.NL, governments, market and knowledge parties and other stakeholders work together intensively to improve the traffic flow in the Southern Netherlands and to stimulate innovation in this smart region.
The SmartwayZ.NL programme compriseseight related projectsin the provinces of North Brabant and Limburg and focuses on the corridor A58/A67 (Breda-Venlo), including the Eindhoven traffic junction, the A2 (Eindhoven-Weert), the N279 (Veghel-Asten) and the area of South-East Brabant. The projects vary from smart mobility solutions to widening motorways and tackling transport hubs.
Our ambition is to use Smart Mobility to realise optimum accessibility and the smartest road network in Europe, with the traveller in the role of key player in a network of mobility systems and consumer of smart solutions and services. Smart Mobility is an independent project but it is reflected in the other seven projects.

SmartwayZ.NL is continually looking for concrete solutions, entrepreneurship and innovations being the watchwords here. We use the latest technologies in smart ways and, if necessary, develop our own. We dare to experiment but stay realistic. Solutions must be widely applicable.

SmartwayZ.NL shares knowledge proactively and wants to learn from others. We involve end users and let them work with us and contribute to solutions so that the services we realise are precisely what they want for the Netherlands, and particularly the south of the Netherlands, and Europe too.

SmartwayZ.NL looks further than just accessibility by car. Public transport and the bicycle are also included in the programme. They complement and reinforce one another. Maximum flexibility is vital in a world, which is rapidly changing as a result of technological developments. And it is vital if we are to create a reliable, future-proof mobility network. For today's trip and tomorrow's world.

We are supporting companies as they test and roll out Smart Mobility solutions on a larger scale. Our focus lies on Cooperative Autonomous Driving (CAD), Smart Logistics and Mobility as a Service (MaaS) and Traffic Management.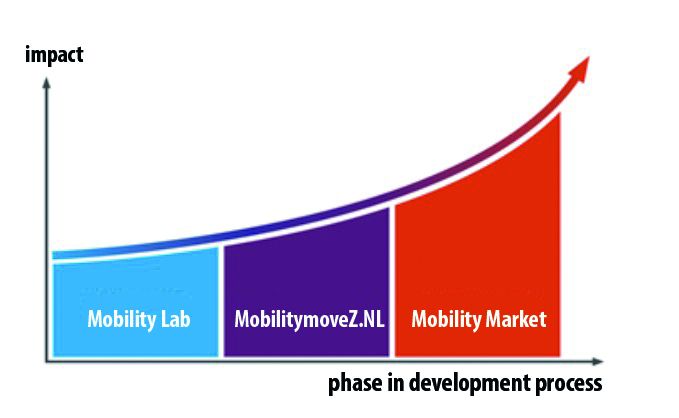 The Mobility Lab allows start-ups to test their prototypes in practice. MobilitymoveZ.NL makes it possible to test mobility concepts at a more advanced stage in a real environment, with real users. Via Mobility Market, concepts that have effectively demonstrated their worth can be scaled up. In addition, logistics companies can participate in the Smart Logistics project.

Our mobility is changing rapidly. It may just be that in 10 or 20 years' time we can board a self-driving bus or car, that we combine this with an e-bike and that we have one single mobility subscription. And who knows, maybe one day our parcels will be delivered by drone.
In the South Netherlands district we are working on these Smart Mobility developments. Under SmartwayZ.NL authorities, companies and knowledge institutions work with you on improving the accessibility of our region. If you would like to be involved, share your thoughts or test out Smart Mobility ideas, then go to:
Perhaps the ultimate form of smart mobility is the self-driving vehicle. Have you ever thought about what it would be like if you could let your cell phone know that you want to be picked up, and that a car will be at your door in no time, completely on its own? That may become reality some distance into the future, but the first steps have already been taken. Many modern cars are already connected, with each other and with systems along the road (for example, traffic lights). Connected vehicles can keep their distance independently, steer within the lines and park them. SmartwayZ.NL supports this development

Road works will start in 2020, but measures are also being taken in the current situation to improve the traffic flow. For instance by using smart traffic lights, also known as Intelligent Traffic Control Systems or iTCS. They will be installed in the third quarter of 2019 on the route of the N279 in Veghel. iTCS have been installed close to the connection with Deurneseweg/A67. iTCS are also placed elsewhere on the route during the conversion. Intelligent traffic control systems are able to send data to vehicles and cyclists, as well as receive data from the TCS and adjust regulations accordingly.
Operational initiatives
---
Beamrz: Multimodal travelling from A to B
Schwung: Green light for cyclists at intersections
Autonomous cars, trucks that communicate with one another via WiFi and drive in platoons, and traffic lights that communicate with approaching traffic. These are only a few concrete examples of technological developments that are making traffic smoother, safer and more sustainable and that are succeeding one another with ever-increasing rapidity. This testing area was launched in 2017 to enable innovations by facilitating the practical application of the various services and techniques: 'MobilitymoveZ.NL, Urban Mobility Testing Area'. This is an initiative jointly set up by the province of North Brabant, the Ministry of Infrastructure and the Environment, the Directorate-General for Public Works and Water Management and the municipalities of Eindhoven, Helmond and Tilburg.
MobilitymoveZ.NL is an experimental environment in which both private and public parties are testing smart mobility solutions to meet the social challenges of the future. The focus lies on the development of connected autonomous driving, in combination with electrical propulsion and on-demand services. Thanks to experimentation, development and practice in the real world it gradually becomes clear what works and what does not. In relation to both personal and goods transport.
Member of the provincial executive of North Brabant, Christophe van der Maat, says: "In our capacity as provincial authorities, we are looking for new solutions that will help us improve the accessibility, quality of life and safety of our cities. It is essential that we test these new mobility concepts in practice before we actually introduce them on a large scale. This is why MobilitymoveZ.NL, Urban Mobility Testing Area has now been created. The fact that testing can be carried out here on a complete network of roads with different characters and different speed regimes makes this testing area unique."
The objective of this public-private collaboration is to lift the mobility sector in the Netherlands, and Europe as a whole, to a higher level and to improve accessibility in and between cities and regions. Besides testing new products and services, the initiators of MobilitymoveZ.NL are committed to connecting participating companies to promote mutual cross-pollination and the sharing of know-how in the field of Smart Mobility. Collaboration in the development, integration and implementation of new mobility concepts initially takes place on a small scale with various private and public parties. Participants in the testing area are, thus, investing together and working on a new standard for techniques.

This testing area enables the practical testing of new techniques in daily traffic and their development into new products or services that can subsequently be marketed on a large scale. The testing area MobilitymoveZ.NL is a part of SmartwayZ.NL, the innovative mobility programme in which governments, market parties and knowledge institutes collaborate on improving the access and economy in the south of the Netherlands. This makes it possible to actually apply a successfully tested mobility concept or new service in the SmartwayZ.NL programme and outside it too, of course.
The test environment at MobilitymoveZ.NL already extends from Helmond via Eindhoven to Tilburg, but it is also anticipated that tests will be carried out on roads, in urban areas and in business parks beyond this zone. The test environment includes a controlled, manageable section of public road, which can be used to test new technology and services. There is also plenty of relevant knowledge and experience available in the region.
The South Netherlands district is highly suited as a stepping-stone for Smart Mobility. Considerable experience has been gained in recent years in projects related to road safety and accessibility. Furthermore the region offers the right people, resources and facilities. In short: it's the ultimate place to work together on pioneering mobility solutions for Brabant, the rest of the Netherlands not to mention Europe.
MobilitymoveZ.NL brings together various authorities and market players to encourage cross-fertilisation and the exchange of knowledge related to smart mobility. The ultimate goal behind this public-private partnership: to take the mobility sector in the Netherlands to a higher level and improve access in and between cities and regions.
5. Data sharing and privacy
We already have considerable data on traffic flow, journey times and planned roadworks. As experts in vehicle detection and transforming vehicle detection data into actionable intelligence we understand the huge volume of data available on what traffic is where at any given point. However, this data has remained siloed due to issues of ownership, consent, and privacy. Autonomous vehicles will need access to this data as they communicate with other vehicles, navigate roadworks, and plan journeys. For this to happen drivers need to consent to sharing personal data and organisations and transport authorities need to protect privacy while sharing data sets with each other.
Mobility Lab is targeting innovative solutions with a positive impact on accessibility and the (business) climate in the South Netherlands district. For example:
Efficient use of parking spaces
Encouraging the use of bikes and/or shared cars
Mobility services (vehicle-to-vehicle or vehicle-to-infrastructure)
New types of electrical and autonomous transport
Smart infrastructure
Smart urban distribution
Better dispersion and more customisation for passengers using public transport
Linking start-ups to a launching customer and a location
Offering the possibility for early-phase funding of up to €25,000
Supporting start-ups with communication, marketing and PR
Giving individual guidance to start-ups as the company develops
Mobility Lab 2019 has started! After two successful editions in 2017 and 2018, Mobility Lab offers start-ups a new opportunity to test their innovative mobility solutions in practice.
In 2022 Brainport Eindhoven wants to be known in Europe as the place-to-be for Smart Mobility. Three objectives have been set for Brainport Smart Mobility:
Residents move smartly and easily from A to B. We have a leading, comfortable and sustainable "Daily Urban System" that contributes to a green, liveable environment.
In 2030, Brainport Eindhoven Region will be the European hotspot for applied knowledge concerning the technology for Connected & Autonomous Driving (CAD) and Mobility as a Service (MaaS).
In addition, new economic activities are emerging in a growing smart mobility ecosystem with the Automotive Campus as the focal point.
During the ITS European Congress 2019 many already-implemented ITS applications will be demonstrated. During various bike tours through the city for instance, we will inform delegates about innovative projects/measures, focusing primarily on innovations for cyclists/slow traffic, including Synchronicity, C-Mobile and Bikescout. These innovations use sensors and sensor data for a safer traffic situation and an optimization of traffic flow.

C-mobile: European project aimed at improving safety for weaker road users (walking, cycling) https://c-mobile-project.eu/
Synchronicity:

VRI data and count data available in platforms, pilots with applications. Resulting in a working marketplace for open (sensor) data based smart solutions

Bikescout:

The Bikescout makes crossing safer. Bikescout improves the safety of cyclists at crosswalks by detecting them at an early stage and warning motorists in time by means of LED lighting in the road surface.
In addition there are excursions to:
Strijp-S:

The Mobility-S programme has developed a management information system for integrated transport. The combination of a digital platform and the implementation of multiple transport modes makes Strijp-S unique. Various companies deployed products and services for the inhabitants (both consumers and companies) of this area, a so-called living lab for smart city technology and services is realized and ongoing. Technology, design and user interaction to improve the quality of live can be experienced here.
Mobility-S offers its visitors services such as a personal welcome and navigation to your personal reserved parking spot. Pedestrians and bicyclists are also guided to their destination by route displays (Wayfinders). By introducing different guiding systems, the time for looking for a parking place is reduced and therefore it reduces the unnecessary CO2 emissions. Beside that, the reduced traveling time is also convenient for the car user. In addition to these services, Mobility-S also offers two MaaS services: wooden e-bikes and electrical car-sharing solutions. A complete network of smart fast-charging stations was placed in the district. The Interflex Horizon2020 project is also implemented in Strijp-S. This project is testing the energy system of the future. Users of EV vehicles can get a bonus when they have their car being charged at an off-peak moment of the energy grid.
Living Lab Stratumseind:

Stratumseind is one of Eindhoven's most prominent nightlife areas, attracting well over 20,000 visitors in weekend nights. In contrast, it is almost deserted during the day. As the area is in decline and the number of (severe) incidents on the rise, the city aims to turn Stratumseind's back into a safe environment. As part of the action plan, innovative solutions involving lighting, social media, gaming technology, and the collection and processing of sensor data are tested and deployed. Stratumseind is a Living Lab where massive amounts of data about people's activities and the environment are used to determine the effects of measures and to study which factors contribute to violence and discomfort.
High Tech Campus:

With an Amber electric car visiting TomTom, Holst Center and NXP on the High Tech Campus.
On the ITS Corridor between the ITS European Congress venue, Evoluon, and the Automotive Campus, all traffic lights are made intelligent so that they can communicate with individual vehicles, with each other and with an app. The traffic lights provide information about the time to green light and the time to red light. Where possible, an ITS application is used on the Ring. The flow can be further optimized with such an ITS application. The ITS application will be installed at four intersections on the Ring: a software platform that consists of control algorithms that make a new calculation every second. Based on the current traffic situation, the ITS application calculates how long the traffic lights get green and whether certain traffic streams are given priority (such as public transport). This priority depends on the location and current situation.
Experience the life of elite and premium-class passengers in our buses or VIP cars! By using Dynniq's GreenFlow for VIPs you will get to your destination faster. During your transfer, you will discover how our C-ITS applications can provide smart support to road users. GreenFlow prevents a stop-start at junctions, which saves fuel and CO2 emissions. The driver will experience a more comfortable and smoother drive. And it gives the road manager full control to tailor their traffic policies to suit different road users, such as cyclists, car and lorry drivers. This creates an effective management of traffic flow, with the ultimate goal of improving user experience.